Cross Cultural Communication
Åbner døren til dine internationale markeder!
The Objectives of the course
Make people aware of culture and its effects in business
Show the effects of stereotypes on our communication written and verbal
Demonstrate tools for dealing with these effects in business and personal life.
Provide effective communication techniques for giving and receiving information across cultural boundaries.
Provide hands on experience with the tools being shown.
Action planing to assist progress when back at work.
Will be an enjoyable and social experience.
Course outline
An outline to the impact of culture on effective communication
What is culture? The answer to this question will not just focus on country, but on company and market place as well.
The Geert Hofstedes cultural model and his dimension will be used to replica general cultural behaviour.
Cultural stereo types and the effects these can have on us and our communication.
Look at what can be done now to improve and develop the current communication lines in and out of the Business and or Department.
Ensure that key actions are owned and documented in an action plan, that can be shared and embraced by the team once back at work.
Hofstede's Onion Model of Culture
In 1980 Geert Hofstede started to develop a set of four layers. At the core where values in other words, how people believe things 'ought to be', what they hold dear to them. This in turn is effected by the other layers of SYMBOLS i.e. words, artefacts, pictures, RITUALS i.e. festivals, ways of paying respect, trends and ICONS i.e. persons admired by the society as a whole. He also defined 4 dimensions; Power Distance, Individuality, Uncertainty Avoidance and Masculinity. The model and dimensions are explored and interpreted during the day and turned into practical tools to assist in your cross cultural communication both at work and socially.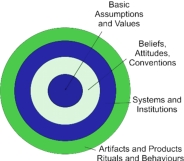 for more course details fill in the below form
Vi ser frem til dit opkald eller skriftlige henvendelse. Vi besvarer altid din forespørgsel inden for 24 timer.
Vi kan kontaktes på mail: dorte@intcom.dk
eller ring 7026 2460
Kontaktformular
Kontakt Os
Referencer
Kursisternes Oplevelser
Underviseren havde god indlevelsesevne til at vurdere niveau og improvisere når et bestemt problem blev rejst.
Mogens Solgaard,
Axiell Scandinavia A/S
Det har været et godt kursus, som jeg bestemt kan anbefale til andre. M.v.h. Lene.
Lene Bentzen Sørensen,
Sydbank A/S
More Testimonials